We stock a wide variety of decking and accessories such as 28 X 145mm boards, 33 x 120mm boards ranging from 3mtr lengths up to 4.8mtr lengths.
Square spindles 900 x 41 x 41mm, Colonial (turned) spindles 900 x 41 x 41mm, Patrice Newel Posts 1195 x 75 x 75mm, Colonial Newel 1195 x 82 x 82mm.
Scandinavian Redwood
Our deck boards are Scandanavian Redwood imported to the UK with a variety of framing 4 x 2" & 6 x 2" Timber Joists also ranging from 3mtr to 4.8mtr lengths.
Pressure Treated Timber
All our timber has been pressure treated green (tanalised) to provide protection against the effects of the weather, rot, fungal & insect attacks. We also stock deck screws.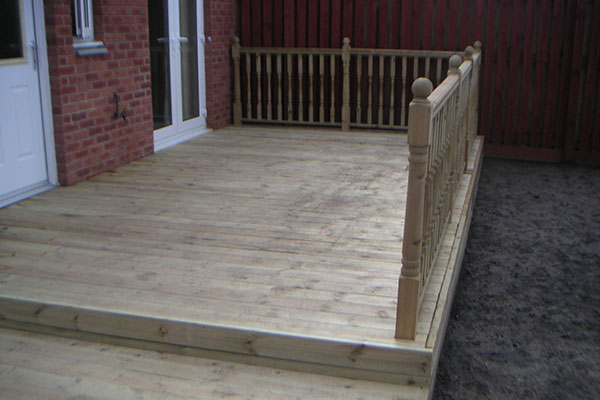 Composite Decking
Eva-Last®'s range of composite building solutions offer you premium outdoor living through innovative, durable and eco-friendly products. Eva-Last® manufactures and supplies bamboo-plastic composite decking as well as various accessories and systems to match. Whether you're converting a dull patio area into a dreamy deck, transforming a lifeless wall into a masterful design feature or need expert installation advice on your next home improvement project, Eva-Last® has over a decade of experience as a tried and trusted composite building partner.
Premium, co-extruded boards with Dura-tech™ capping technology, making them ultra-durable and superbly weather resistant.
Slip resistant
Stain resistant
High UV resistance
Low maintenance
High quality variable colour technology
Durable and suitable for commercial use
Our most innovative composite product offers strength, durability and colour depth like no other. Infinity™ is built to withstand extreme temperatures and climatic conditions and it's 25-year warranty is testament to its reliability.